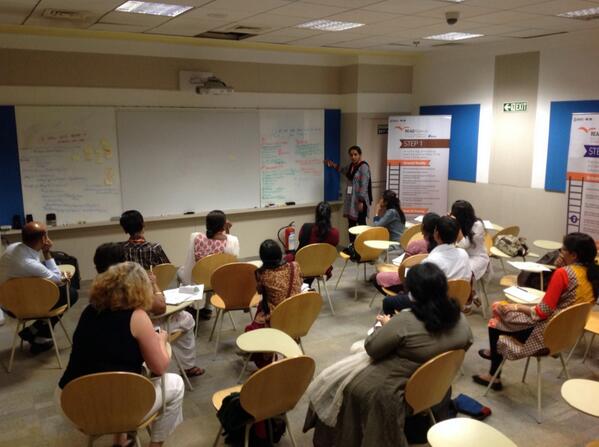 A quiet room on a quiet floor of a big building in a big big city. A bunch of people gather in the room to talk about proposals. No silly, this isn't the kind of thing that you wish someone had talked you through you when you were hitting puberty and hating it. This is the grown-up stuff.
A group of people from different organizations, working with different sections of the population have come together for a workshop on proposal writing, to learn and discuss how to put across your ideas, your work and your needs for funds in a lengthy, somewhat technical document, one that expresses all the blood sweat and tears you have put and are willing to continue putting into a project, but all of this in extremely dry language.
So Nita Aggarwal takes center-stage and throws some pertinent questions at the group. The first goes: why do we need to write a proposal?
Voices pipe up from different ends of the room.
"to ask for funds". Bitter or not, the truth is always funny.
"to show how amazing our work is". No modesty there.
Then the serious stuff starts rolling in.
"to communicate what we are doing"
" to show how can we improve an existing situation with the asked for funds"
"to share our work and out vision"
"to sell yourself, your work; to inform and persuade"
"to give a structure and clear idea of what you want to do"
from a funder's perspective: "it has to be cost effective. the best, most efficient way to get something done. Value for Money!!"
In short, and quite simply but powerfully, the proposal "should express YOU"
Nita collects these thoughts on the whiteboard. Then the participants are separated into two groups: one is a group of funders giving away a bucketload of money, and the other is a bunch of applicants whose projects could be helped immensely by this same bucketload.
Each team is to come up with a list of things they seek in a proposal. The groups are now deep in discussion. More on what they come up with in the posts to follow. So, follow…